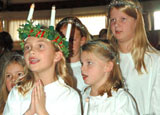 Family
The Lucia Procession is one of the highlights. Children and adults perform traditional songs in costumes of Lucia, gnomes, and Staffan the Farmhand. Other family activities include visit with Tomten (Santa), dancing around the Christmas tree, storytelling, and Swedish candy.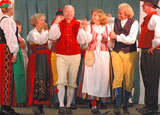 On stage
The stage has something going on the entire day.
The local Scandinavian community will be showing traditional folk dances, playing folk music and singing. There will be a "fashion show" featuring the beautiful folk costumes of the Scandinavian countries.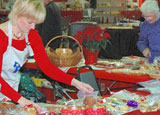 Food
The fair features a variety of homemade foods, such as Swedish meatballs, salmon and pea soup. Visit the Swedish Fika for coffee and wonderful home baked pastries. Try the traditional spiced wine (glögg) and salty candy!