Invitations to the Scandinavian Christmas Fair, Raleigh, NC, Dec 2nd, 2023


Below are files you can download and print.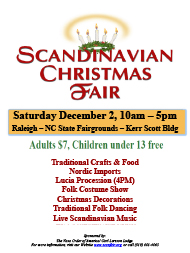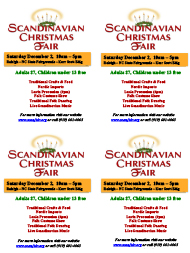 Handouts
Just click handouts, wait until the document opens, click on the print button.
There are 4 handouts on each sheet.
Flyer
You can print a flyer by clicking here.
If you have problems please send an email to info@scanfair.org
Print as many invitations as you like and distribute among friends and family, post at your children's school and give to your neighbors and coworkers.
You need to have Adobe Acrobat Reader installed on your computer for viewing and printing Adobe Portable Document Format (PDF) files. (the format of the invitation files above). If you don't have this already go to http://www.adobe.com/products/acrobat/readstep2.html to download Adobe Reader software for free.