Performers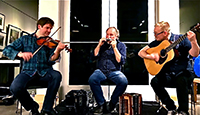 GANGSPIL
Sonnich Lydom & Kristian Bugge with Vidar Skrede
Two of Denmark's leading folk musicians will take you on a tour of the music traditions of their home country! Joining them this year is the great Norwegian guitarist Vidar Skrede!

Sonnich (accordion, harmonica, vocal) is a master of Irish, French-Canadian, and especially Danish traditional tunes. For the past 25 years he's been leading the revival of diatonic accordion and harmonica in Danish folk music. Sonnich holds a special place in his heart for the music of the Western Island of Fanø, where his family is deeply rooted. He is best known for his work with the ULC trio and later quintet. ULC received the Danish Music Award in the category "Folk Album of the year" in 2001 and 2004.
Kristian (fiddle, vocal) specializes in the strong traditions of Danish folk music. He is very active on the Danish and Scandinavian folk music scene as well as in the rest of Europe and North America, both as a musician and teacher. At the Danish Folk Music Awards in 2012 and 2016 Kristian received the Danish Folk Artist of the Year award. More info at www.kristianbugge.com

Vidar Skrede (guitar) is from Haugesund, Norway. Vidar is a leading musician on the Nordic folk music scene and also a popular tune writer. He works and performs as a Nordic folk musician on guitar, Hardanger fiddle, flat fiddle and Greek bouzouki. He has a background in the traditional music from Rogaland in southwestern Norway and has a master degree in Nordic folk music from the Royal Academy of Music in Stockholm. More info at www.vidarskrede.com
The Triangle Spelmanslag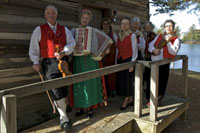 The Triangle Spelmanslag (Scandinavian folk band) studies and performs traditional folk music from the Nordic countries. Located in Chapel Hill, North Carolina, these musicians use instruments such as fiddle, tramporgel (pump organ), nyckelharpa, hardingfele and accordion.

ScanDans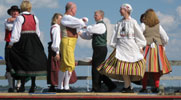 ScanDans presents the folk dances of Sweden Norway, Denmark, Finland and Iceland! The mission of the ScanDans organization is to showcase the rich cultural heritage of the Nordic countries through the presentation of traditional dance and authentic national folk costumes. Drawing from a performance repertoire of over 100 dances, the ScanDansers have educated and entertained diverse audiences at many local, regional and national events. For more information, visit www.scandans.com.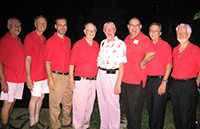 Vasa Drängar
Vasa Drängar, a men's choir from Atlanta, GA, was founded in 1996. This year marks their 11th year of performing at the Scandinavian Christmas Fair! They present and promote Swedish culture in Georgia and throughout the southeastern United States. They cover a wide range of musical compositions and genres and sing not only in Swedish but also in English and other languages. facebook.com/vasadrangar/